Alaska Wildlife Curriculum

Wildlife for the Future
Resources
Additional teaching resources about wildlife research and management can be found here. We will be updating this tab regularly. Check back often to see what's new!
A look at how even one cow moose contributes significantly to the overall population.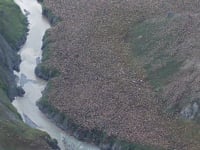 This video summarizes the method used by the Alaska Department of Fish and Game to estimate the population size of various caribou herds in Alaska. A ten-minute bird's eye view of a wildlife phenomenon few people get to see.