Olive-sided Flycatcher Migration & Breeding
The Olive-sided Flycatcher (Contopus cooperi) is a migratory landbird in steep decline. An estimated 78% population loss of this species has occurred in North America over the past 40 years. Our research seeks to reduce Olive-sided Flycatcher decline in Alaska and propose management solutions for recovery.   There are two notable ways in which decline may occur: 
Migration
Adults undertake one of the longest migratory journeys of any North American songbird. Adult mortality during migration likely exacerbates decline, as this species has one of the lowest reproductive rates of any North American songbird.  Using cutting-edge technology (tags weighing <1gram) we have documented the first-ever migratory route of this species. Alaska breeders exhibit a remarkable ~20,500 km (12,700 mile) annual journey! This knowledge enables Alaska to work with other managers in the U.S. and internationally to identify and maintain habitat at important stops along the way. This ensure adults successfully return to nest in Alaska, some from as far south as Bolivia! 
Breeding
Our studies revealed that Alaska exhibits one of the highest known rates of nest success for this species in North America. Approximately 75% of Alaska nests rear one or more chicks, compared to ~53% of nests in the Pacific Northwest.   We have increased existing knowledge of Alaska nests by revealing characteristics associated with nest success and survival (e.g. habitat features, insect diet).  The data will inform strategies to conserve or enhance breeding areas to restore populations.
Click on the link below to learn more about the biology and identification: www.allaboutbirds.org/guide/Olive-sided_Flycatcher/id
Video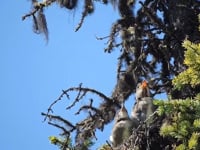 A parent stops by briefly to feed them. The spruce tree, nest, and chicks are blowing in the wind– don't get seasick! (Video: N. Newberry, ADFG)
Audio
Olive-sided Flycatcher Audio from ADFG
Gallery
---
Partners/Acknowledgements
US Fish and Wildlife Service, Migratory Bird Management, Region 7
Tetlin National Wildlife Refuge
Bureau of Land Management, Eastern Interior Field Office, Fairbanks, AK
University of Alaska Fairbanks, Museum of the North
Smithsonian National Zoological Park, Conservation Biology Institute
University of Alaska Anchorage
University of Alberta
Environment and Climate Change Canada
Yukon College
American Bird Conservancy
Biodiversity Research Institute (BRI)
Center for Environmental Management Military Lands (CEMML), Colorado State University
U.S. Army Garrison Alaska
Joint Base Elmendorf-Richardson's 673 CES/CEIS