Alaska Fish & Wildlife News

December 2019
Rockfish Cards Aid Outreach
Go Fish, Anyone?
By Riley Woodford
The newest guide to Alaska rockfish has an unusual format: a deck of standard, poker-size playing cards.
The ten of spades features the rougheye rockfish - which can live to be more than 200 years old. The two of hearts offers a short lesson on barotrauma. One of the jokers is a rockfish playing a Gibson Flying-V electric guitar, with the emphasis on rock.
Andrew Olson is a fishery biologist and the groundfish-shellfish coordinator for the Southeast region. He worked closely on the design of the cards and the information provided. The sport fish and commercial fisheries divisions collaborated on the project with the goal to increase rockfish knowledge.
Olson said they considered the wide variety of outreach materials commonly used - paper pamphlets, posters, laminated cards, and settled on the idea of a deck of playing cards.
"Everyone likes cards and card games," he said. "If you go on a boat, there's probably a deck of cards."
The outreach is part of the Statewide Rockfish Initiative, a department-wide effort to address changes in rockfish harvest and population trends. Historically, rockfish caught by sport anglers and commercial fishermen were managed differently by the sport fish and commercial fisheries divisions. This worked fine for decades, but changes in fishing pressure on different species, fish regimes and populations - including rockfish, salmon, halibut, and Pacific cod - have led to more alignment in management between divisions.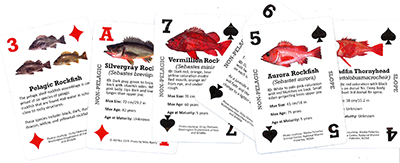 "The dynamics of fish populations have changed over time and a lot of things influenced that," Olson said. "People are targeting other fisheries. Charter trips used to mainly target salmon and halibut, now they target multiple species including sablefish, lingcod, and rockfish."
Harvest of rockfish has increased dramatically in recent decades, and bag limits and regulations have changed to ensure that harvest is sustainable. The use of deep-water release devices (also known as descender devices) allow anglers to return rockfish to the water, reducing barotrauma mortality. It has been mandatory for charter vessels to employ these and will be mandatory for all sport fishing anglers fishing from a vessel in saltwater beginning Jan. 1, 2020.
These changes are occurring along the entire Pacific coast, and state and federal agencies are collaborating on rockfish education efforts. That paid off with the project – rockfish images were available from NOAA fisheries and the group recfin.org. That offered an added benefit.
"The imagery is consistent across the board with other outreach materials," Olson said.
Alaska artists Kellii Wood of Petersburg and Ray Troll of Ketchikan contributed their artwork as well.
The deck includes 48 of the rockfish species found in Alaska, a card on descender or release devices, rockfish habitat, anatomy, rockfish barotrauma, and, "what is an otolith and how do we use it to age fish."
Olson chose the more colorful demersel shelf rockfish species for the red suits, and the pelagic species, which tend to be darker, for the clubs and spades.
Olson found he had more than enough information on each species for its designated card. He considered what would fit, and what take-home messages are most important to teach. Identification was the priority, then three facts: maximum size documented, maximum age documented, and estimated age at maturity.
"Some fish can live hundreds of years," Olson said. "Shortraker, the 10 of diamonds, can live 157 years. Yelloweye live 118 years and are sexually mature at approximately 22 years. Black rockfish mature at six or seven years and can live to be 50 years. A species can replace itself a lot quicker than another so our management strategies are structured to incorporate these different life history attributes."
Olson is getting good feed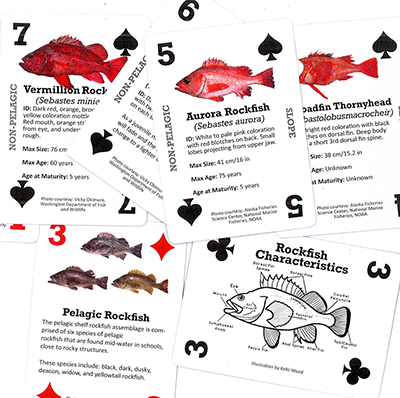 back in the recent weeks that the cards have been available.
"I've talked to people that say, 'I'm studying the deck and learning one new rockfish a day,'" he said. "I can see people learning just by casually playing card games. My daughter spreads them out and asks me about the different rockfish names. She said yesterday her favorite is the red banded rockfish."
The cards were manufactured by US Playing Cards, which produces the popular Bicycle playing card decks. Olson said 30,000 decks were ordered at a cost of about a dollar a piece.
The cards are available at offices across the state including: Douglas, Juneau, Sitka, Kodiak, Wrangell, Petersburg, Ketchikan, Anchorage, and Homer. They will also be distributed at events and meetings. Ideally, they will get into the hands of people who want to learn to identify rockfish, not simply everyone who wants a free deck of cards.
"We want people to come in and talk with us," he said. "Ask us questions about rockfish and what research we are conducting."
---
Subscribe to be notified about new issues
Receive a monthly notice about new issues and articles.